Main image: The village of Sutera in Sicily.
Photograph: Alessio Mamo for the Observer
Refugees are breathing vibrant new life into the dying home town of Lorenzo Tondo's father-in-law. If only Italy's ascendant rightwingers saw it that way
At the same time every afternoon, while seated on the same bench, my father-in-law, Rosario Buttaci, silently watches John Babalola Wale and his family climb the steep walkway in the village of Sutera that leads from Piazza Europa to the old Arab quarter of Rabato.
In Rosario's day, the "foreigner" who came to this picturesque Sicilian village was likely to be from Palermo, 100km away, or nearby Agrigento. But Wale, 35, is from Ekiti state in Nigeria, and he reached Sutera four months ago after a trek covering 6,000km. He lives with his wife and a son, like dozens of other African people seeking asylum who have come from another continent with their families to live here.
"The world is changing," says Rosario, a 65-year-old retired architect who was born, raised and will grow old in this village, as did his ancestors for generations. "And Sutera is a part of that change."
At the end of the 1950s, when Rosario was a small boy, Sutera was a town of 5,000, with six food stores, five taverns, a cobbler and a blacksmith. "The streets at dusk were filled with miners and farmers, and the tavern lights stayed on until late in the evening,'' he remembers. "Sutera was alive, and it seemed that nothing could ever change that atmosphere of joy and warmth."
But change it did. One by one, the sulphur mines scattered across the valley closed down, and industrial agriculture took the place of mules and peasant farmers. The people of Sutera began emigrating in search of work across Europe, often in the German town of Dillingen, or in Woking, Surrey, where there is still a sizeable community of Suterese people. And Sutera increasingly became a ghost town.
My father-in-law had his own voyage planned out: he was supposed to leave for Germany to be with his father, who had moved to Herrenberg in the south of the country the previous year and found work as a mason. But he died in an accident at work on 4 June 1963, just a few months before his wife and their four children were due to reach him in Germany. Rosario, who by then was 11, never left Sutera, but instead was forced to unpack his bags and await the arrival of his father's coffin.
Now, more than half a century on, the population of Sutera has dwindled to 1,200 inhabitants. My father-in-law is one of them. He has spent his entire life here, witnessing the village's gradual depopulation over the years as it risks disappearing from the face of Italy. (It is far from unique: according to data from the National Association of Italian Municipalities, in the last six years almost 80,000 citizens have abandoned Italian towns with fewer than 5,000 inhabitants.)
But history, at times, reverses itself. In October 2013, a boat full of migrants and refugees capsized in the Mediterranean: 368 people perished and needed proper burial. The town of Sutera, almost entirely populated by older people, had long since filled its cemeteries to capacity. But although there was no room for the dead, there was plenty of room for the living, with hundreds of empty homes left by those who had abandoned the town in search of work abroad. In 2014, the mayor of Sutera agreed to let the Italian state settle asylum seekers in his community's vacant homes. Sutera joined a resettlement programme that funds towns to host a certain number of migrants. Like Wale and his family.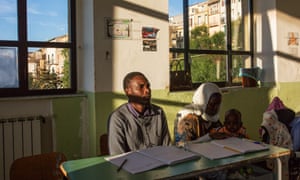 In the late afternoon one day last week, I took a stroll with the Nigerian, from Ayede Ekiti. Leaning on a railing, he watched a group of elderly men sitting on a bench and told me that if, five years ago, people had told him that he would soon be living in a small Sicilian village he would have laughed in their faces.
"No way, man! I thought I'd live out my life in Ekiti state. I never would have thought that one day I'd leave my home in Nigeria." As it turned out, Wale had to leave after his parents died and he and his wife had nowhere to live. They moved to Libya where Wale worked. "But things were not good in Libya and we risked our lives every day," he said. "That's why we have decided to move to Italy. I'm happy here. I consider myself lucky. I'm looking forward to finding a job and to starting work."
For Sutera, which clings to the base of Mount San Paolino in central Sicily, the arrival of migrants has been a boon. The local school once risked closure because there were so few pupils but, thanks to the children of asylum seekers, it has remained open. The town is now a model of integration which has been replicated across several Italian cities, including Riace, in Calabria; there, the town's mayor, "Mimmo" Lucano, has welcomed hundreds of migrants who have, in turn, brought investments to the town.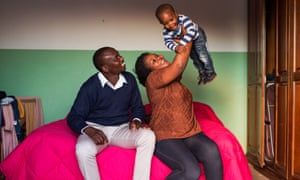 But to Italy's anti-immigrant right, these communities represent a 21st-century catastrophe: the displacement of Italians by foreigners. Many have been quick to spread scaremongering stories about a supposed link between the arrival of migrants and an increase in thefts and murders. The extreme rightwing interior minister, Matteo Salvini, never misses an opportunity to use his Twitter account to highlight the crimes committed by asylum seekers, while ignoring those committed by Italians.
I thought of his hate-filled rhetoric as I watched Wale leaning on a marble bust of local policeman Calogero Zucchetto, murdered by the very same Sicilian mafia that Italy has exported throughout the world. And I thought of the New York mafia boss, Lucky Luciano, who wasn't from Ekiti state, but from Lercara Friddi, just 30 minutes from Sutera.
Last week, as we wandered the village, Wale was waiting for the papers he needs to start looking for a job. Rosario and I watched him playing with his son in the square. It occurred to me that that two-year-old boy from Nigeria had more in common with my father-in-law than my father-in-law did with any other Italian. That boy, 50 years ago, could have been him in Herrenberg – if a crane hadn't taken his father's life.
I didn't have the courage to ask, but I saw him smile as he watched the toddler playing with a ball. And to me, that smile, was worth more than a thousand answers.